Best Reactions to Steve Harvey's Miss Universe Screwup
If you live under a rock and somehow managed to miss the massive mix up at this year's Miss Universe pageant, then you need to invest in a smartphone. And then watch the clip of the gaffe here in all its awkward glory:
Basically, host Steve Harvey misread the card that named the winner and runner up. He crowned the wrong woman. Then he had to fix it. They literally took the crown off of poor Miss Colombia's perfectly-coiffed head and stuck in on the very confused Miss Phillipines.
The two contestants handled it as gracefully as any supernaturally beautiful human could. But it was still painfully uncomfortable to watch. You can't get through the video without cringing.
Even better than the miserable spectacle of the crowning mishap was the world's reaction to the debacle on social media. And thus a slew of memes were born.
Here are 14 of the REAL winners of the whole mess:
Leave poor Leo alone.
Give that man a pity Oscar, and give Miss Colombia a pity crown.
Kanye Harvey just had to interrupt.
If Kanye hosted #MissUniverse2015 pic.twitter.com/ika4u7lhXh

— Not Will Ferrell (@itsWillyFerrell) December 21, 2015
"I'mma let you finish Miss Colombia… oh, no wait… I'm not."
The man can't read a calendar either.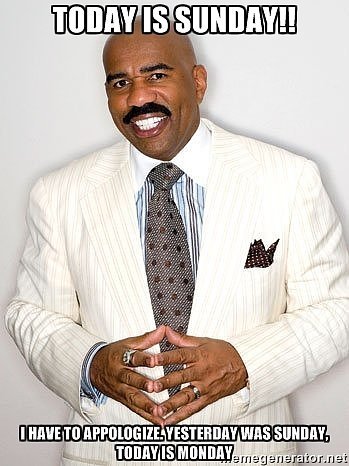 WOOF.
Steve Harvey is the ultimate Mean Girl.
What should've happened… Crowns for everyone 😂 #MissUniverse2015 pic.twitter.com/5kBFTrjueo

— Tweet Like A Girl (@TweetLikeAGirI) December 21, 2015
And none for Miss Colombia BYE.
Is it too soon for this joke?
"What do you mean?" -Miss Colombia, Miss Phillipines, and Justin Bieber
Trashy daytime tv crossover, go.
Except y'know… with a baby human instead of a crown.
His own show. Ouch.
SHOW ME MISS COLOMBIA! pic.twitter.com/3o7aw3u4t5

— Ryan Nanni (@celebrityhottub) December 21, 2015
He can't escape it.
Even God had to apologize.
I'd like to apologize wholeheartedly to Miss Colombia & Miss Philippines for my huge mistake in making Steve Harvey.

— God (@TheTweetOfGod) December 21, 2015
Hey. It was an honest mistake, right?
Suddenly this SNL bit got way more real.
#MissUniverse2015 #SteveHarvey Pretty much pic.twitter.com/7fQIr02KWJ

— Morgan Besmer (@MorganBesmer) December 21, 2015
Decisions, decisions.
This was the ultimate celebrity reaction to the Steve Harvey-Miss Universe shenanigans.
Wrong #MissUniverse crowned last night. For 2 minutes. Remember when that happened with our President in 2000 & we had to keep him 8 years?

— Bette Midler (@BetteMidler) December 21, 2015
Slay, Bette. SLAY.
You had one job.
Just read the card, they said. It'll be fine, they said.
Well that escalated quickly…
The Internet is just middle school all over again.
We might've broke him.
He's gonna go Grey Gardens after this one, isn't he?
At least he can laugh about it?
Merry Easter y'all! 🎄🎄🎄 pic.twitter.com/Z6Xjj5Ehqg

— Steve Harvey (@IAmSteveHarvey) December 25, 2015
He handled it like a champ. Or a total asshole. Bit of both. We still laughed.